Seat Pad for Meditation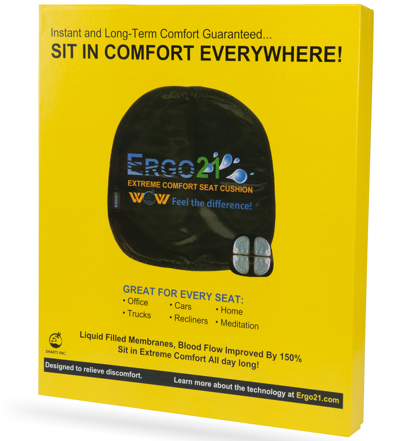 Here is some interesting information from ergo21.com
– Meditation Seat; Also works well with Yoga and Pilates!
 Meditation Cushion
How to meditate in comfort –Extended Comfort Seat Pad to the rescue!
Many people find the idea of sitting to meditate painful and daunting. Sitting still for a period of time can be quite a challenge if you are not used to it. The most common complaint is tail burn, where your tail or coccyx comes in contact with the ground or surface you are sitting on.
Now, there is a solution:
Extended Comfort Seat Cushion with Liquicell – Sit in comfort everywhere!
Please note: You can use the Extended Comfort Seat pad by itself or you can just use it on top of your existing favorite meditation pillow, bench or any seating surface. We use the hot spot technology which eliminates hot spots between your body and the point of contact of any surface! See our LiquiCell Video at www.ergo21.com for more details on how it works.
Extended comfort Seat Pad – Thousands of very satisfied customers are using our Extended Comfort Seat Pad; they are amazed at how incredibly thin it is, yet how extremely well it works!
You can use this pad on the floor, on a chair, bench, sofa, recliner and any surface you can think of! It works equally well.
No more fatigue – Be more productive
Enjoy sitting for longer periods of time
Use it at office, home, commuting & Sporting events
Liquid filled membranes – Blood flow improved by 150%
No Tail burn, fidgeting, numbness or stiffness
Just fold it and take it anywhere! In addition to using it as a meditation aid you can also use Cars, Trucks, Planes, Events & Office Seating or any application you can think of. Put it on your favorite office chair or your favorite seat at your home in front of TV or computer.
Using an innovative combination of low viscosity fluid and strategically placed baffles that control flow, LiquiCell virtually eliminates tissue shear stress and reduces pressure.
Our Seat Cushion- Extended Comfort Seat Pad provides relief from pressure and aids circulation through constant liquid floatation. Watch the LiquiCell Video.
This is quite different than other seat cushions, foam seat cushions or ergonomic seat cushions available in the marketplace.
The next time you are meditating or travelling by car or airplane or sitting in front of your computer, try out our Extended Comfort Seat Pad. Place the pad on your seating surface for a while and then sometimes later remove it. Upon removal of our pad you will begin to feel the discomfort that you were not experiencing up to that point.
Our Extended Comfort Seat Pad is so thin and yet so effective. It does not change the size or the stability of the seating. It equally works on a cushion seat or a hard seat, like the ones at sporting events and concert. You can now watch your favorite game or concert without any tail burn, fidgeting, numbness or stiffness.
Take it on long drives and get out of your vehicle without any pain in the neck, back or stiffness.
Testimonial from a Yoga practitioner:
I use the pad for meditation and also when I am doing my sitting and lying on the back yoga asana, where I slip it under my tail bone. I can now meditate for as long as I want without any pressure on my tail bone and no leg cramps. And it works on the floor, chair or any seating surface. This is truly a miracle pad! I take it everywhere.
Satnam Singh –Yoga practitioner
Testimonial from another Yoga practitioner:
I recently came across this seat cushion that makes long meditation sessions much more comfortable. It is the thin layer of fluid in this cushion that makes such a difference in comfort when sitting for longer periods of time, whether for meditation or work or travel. The cushion is actually fairly thin with only an inch and a half of foam beneath the liquid membrane, and when you first sit down, it is not remarkable in any way. But after half an hour or more, the increased comfort becomes obvious.
Very simply, it prevents pressure points from happening much better than other foam, gel, or air based cushions so that you do not develop soreness in your 'sitz' bones or tailbone. This allows you to be much more still and stationary during long meditations. I have recently been meditating for 3-4 hours a day and often for 90 minutes at a time, and this cushion is a life saver, or should I say butt saver. I also spend a fair amount of time on the computer and telephone, and this cushion makes all of my sitting activities much more comfortable.
The owner of the company, Steve Gambhir, meditates himself and is a pleasure to speak with if you have any questions. They do offer a full money back guarantee and will work with you to make sure you are satisfied.
If you need thicker foam for using the cushion alone on a hard surface, then consider the sports model by the same company, but this version should be fine for most uses on top of any existing cushioning in a chair or meditation cushion.
Here's what a consumer in Manassas, VA has to say "Purchased as a gift for my elderly mother, who has been experiencing frequent discomfort and soreness when she must sit for long periods.  After using the pad the first time on a 6-hour plane flight, she reported with some surprise that she wasn't sore at all. She likes the fact that the pad is easily transportable. She can easily carry it with her whenever she expects to be sitting."
Murray, VP of Sales Medical Device Company has to say "As part of my job I spent countless hours in my vehicle. My first experience with the pad was a road trip of 1200 miles in 5 days and the relief and comfort from the pad was remarkable. Since then I have traveled close to 10,000 miles and can honestly say that I would not leave home without it. I now use the pad on my office chair and find the same positive effect." Click here to read more testimonials.
LiquiCell is an ultra-thin liquid filled interface technology specifically designed to relieve the discomfort experienced when the body comes in contact with another object. This proven technology will enhance the overall comfort of any product.
Products spanning across a multitude of markets (e.g. Medical, automotive, footwear, office, sport and recreation) have benefited from LiquiCell's innovation. Only LiquiCell can put comfort in places you never thought possible.
Liquicell Pads are also being used and come built in some of the Toyota Vehicles, long distance trucking seats, bicycle seats, and high end office chairs by Recaro. You can also look for any other products that use this technology.
Check out the Walk on Water Insoles and LiquiCell Shoe Inserts for your shoes and reap the benefit of this innovative technology.
The average driver commutes farther than ever before. With this comes a new set of long-term comfort issues: fatigue, numbness, fidgeting and tail burn. Our Extended Comfort Seat Pad with Liquicell's proven technology reduces and even eliminates these symptoms.
Medical and scientific evidence proves that while gels, foam and air do provide some relief of discomfort through perpendicular pressure reduction, they do not protect against the harmful effects of friction and shear stress, two of the most influential factors related to discomfort.
Sit in comfort everywhere with our Extended Comfort Seat pad, and you will say "Oh! This seat feels much better! Don't forget your mom or your uncle who drives a lot or someone who can benefit and enjoy life without discomfort. Get one for them or let them know the good news!
You can also use it for various asanas in your Yoga or Pilates practice also. In most of the sitting and lying on your back asanas and positions just place the pad under your tail bone. By equalizing perpendicular pressure at the point of contact(thus reducing pressure), soft tissue compression I greatly reduced thereby significantly reducing skin friction and soft tissue shear stress.
Your search for the perfect Meditation Seat stops here. Get our Extended Comfort seat Pad with LiquiCell today and obtain Nirvana.
Click here to order your Extended Comfort Seat Pad!

800.307.9082
www.ergo21.com
Special Offer – $10 Off
Coupon Code: comfort10
If you would like to carry the Extended Comfort Seat Pad in your Pilates or Yoga Studio, please call Ergo21.com at 800.307.9082